Fleex Prime is a powerful and versatile software suite designed to cater to the specific needs of the hospitality industry. With a range of features and options, Fleex Prime provides a comprehensive solution for hotel management, including guest room management, billing and payment processing, and more. Enjoy seamless integration with your existing hardware, with Fleex Prime's advanced technology providing a user-friendly and intuitive interface. Streamline your hotel management processes with Fleex Prime, ensuring that your guests have an enjoyable and stress-free stay.
Provides a centralized and easy-to-use platform for managing various hotel systems and devices, offering hotel staff a comprehensive solution for hotel management.
Allows hotels to automate different aspects of their property, creating a personalized guest experience while improving operational efficiency.
Offers guests control over various in-room features through a single, easy-to-use interface, enhancing the overall guest experience.
Provides real-time data and analytics to help hotels improve their operational efficiency and make informed decisions.
Supports integrations with third-party systems and devices for comprehensive hotel management, ensuring a seamless integration with existing systems.
Offers a flexible and customizable solution to meet the unique business needs of each hotel or property.
Enhances the guest experience with interactive TV features, information, and multilingual support, providing guests with a personalized and immersive experience.
Supports leading hotel IPTV brands (LG, Samsung, Philips) and external set-top boxes for hardware flexibility, offering a range of options for hotel hardware.
Provides excellent support and training through Lemco Academy, ensuring hotels and integrators have access to the knowledge and resources they need to maximize the benefits of Fleex Prime.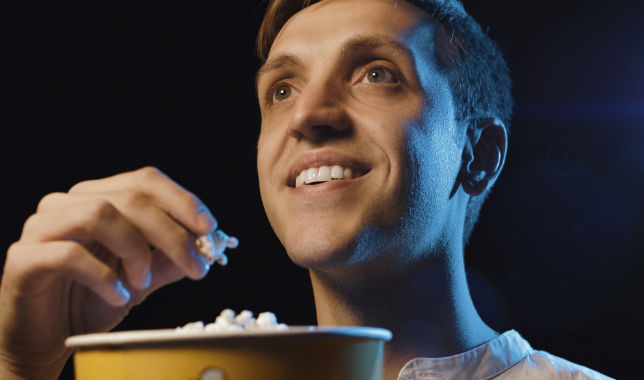 Pay TV
Fleex IPTV middleware offers guests access to premium pay-per-view channels and movies, providing an exclusive entertainment experience right in the comfort of their own room. Guests can browse a wide selection of new releases and popular titles, from the latest blockbuster movies to popular TV shows.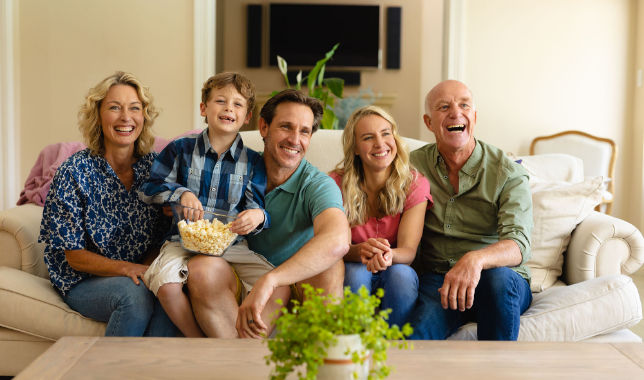 Video on demand
Fleex IPTV middleware's Video On Demand (VOD) feature is not only a vast selection of movies and TV shows, but it also provides guests with valuable information about each title. With the integration of IMDb, guests can access information such as ratings, reviews, and cast lists for each movie or TV show available in the VOD library. This feature allows guests to make informed decisions about which titles to watch, ensuring a more satisfying entertainment experience. With Fleex IPTV middleware's VOD feature, guests can enjoy their favorite content with the convenience of IMDb information, making their stay even more enjoyable and memorable.
Up to 8000 ready off-the-self logos!
Enhance your viewing experience with Fleex's impressive internal logo library, containing up to 8000 off-the-shelf logos from the most well-known TV providers worldwide. Choose your preferred logo icon for TV programs effortlessly, adding a personalized touch to your viewing preferences. Fleex's extensive library ensures that you can easily navigate and access your favorite channels, with a wide range of logo options available.
Search for a logo in our database :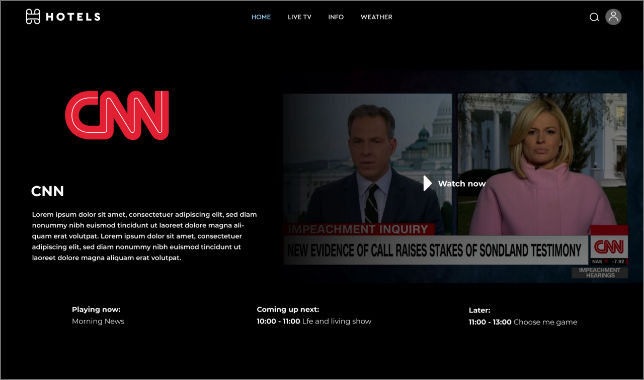 EPG Support
Experience the convenience of Fleex's Electronic Program Guide (EPG) engine, displaying all the available information received from any live TV or radio channel in real-time. Stay informed with current and upcoming programming, program descriptions, participating actors or singers, and any other related information specific to each program. Fleex's EPG feature provides an intuitive and user-friendly interface, allowing for easy navigation through channels and programs. Enhance your viewing experience with Fleex's advanced EPG engine, providing you with up-to-date information and real-time program updates.
Be the first to
learn our news
By submitting your email, you agree to receive periodic emails from Fleex on exclusive discounts, new product announcements, our latest technology insights, special events and more. Please consult our Privacy Policy to understand how we protect your privacy.