Enhances the guest experience with interactive TV features, information and multilingual support.
Features an intuitive, user-friendly interface that is easy for both hotel staff and guests to use, saving time and resources on training and support while enhancing the overall guest experience.
Operates directly from the Lemco headend, without the need for any external server, providing a simple and efficient solution for hotels to manage their TV and other systems.
Supports leading hotel IPTV brands (LG, Samsung, Philips) and external set-top boxes for hardware flexibility.
Provides an affordable and transparent pricing model with one-time fee licenses.
Provides free continuous updates to ensure hotels have access to the latest features and improvements without any additional costs, helping hotels enhance their guests' experience with new features and improvements.
Provides excellent support and training through Lemco Academy, helping hotels and integrators maximize the benefits of Fleex Embedded and ensuring a seamless guest experience.
Offers a scalable solution for hotels of all sizes, supporting up to 500 TVs.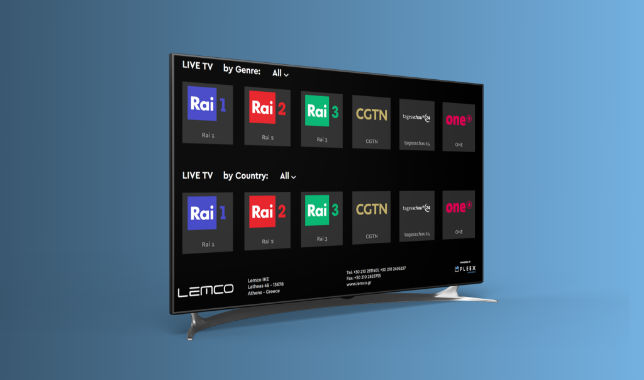 Up to 8000 ready off-the-self logos!
Enhance your viewing experience with Fleex's impressive internal logo library, containing up to 8000 off-the-shelf logos from the most well-known TV providers worldwide. Choose your preferred logo icon for TV programs effortlessly, adding a personalized touch to your viewing preferences. Fleex's extensive library ensures that you can easily navigate and access your favorite channels, with a wide range of logo options available.
Search for a logo in our database: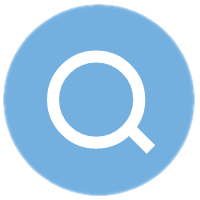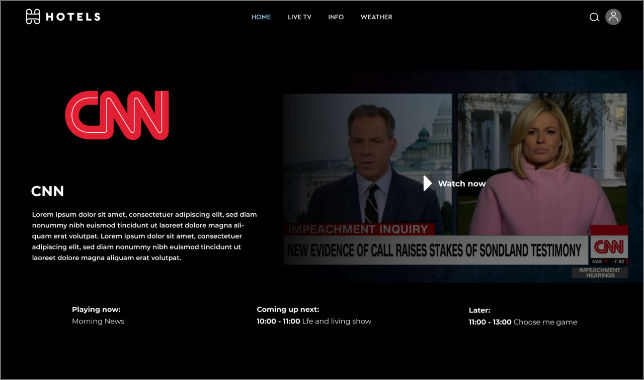 EPG Support
Experience the convenience of Fleex's Electronic Program Guide (EPG) engine, displaying all the available information received from any live TV or radio channel in real-time. Stay informed with current and upcoming programming, program descriptions, participating actors or singers, and any other related information specific to each program. Fleex's EPG feature provides an intuitive and user-friendly interface, allowing for easy navigation through channels and programs. Enhance your viewing experience with Fleex's advanced EPG engine, providing you with up-to-date information and real-time program updates.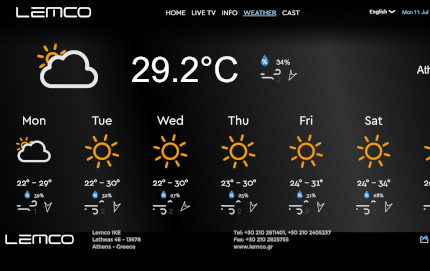 Weather
Stay informed and up-to-date on weather conditions with Fleex's advanced weather feature. Access current and 7-day weather data for any location on Earth, including over 200,000 cities, through the collection and processing of weather data from various sources such as global and local weather models, satellites, radars, and a vast network of weather stations. Fleex's weather feature provides a seamless and personalized experience, allowing you to stay informed and plan accordingly. Whether you're traveling, planning an outdoor event, or simply want to stay updated on local weather conditions, Fleex has you covered.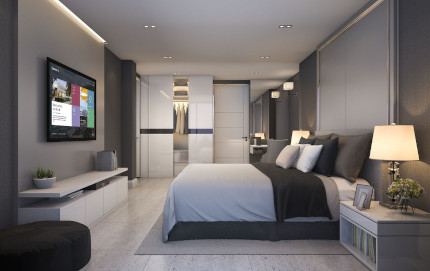 Time / Date info
Stay on top of your daily activities with the time and date feature. With Fleex, you can easily adjust the time and date settings to your preferred time zone, allowing you to stay connected and informed, no matter where you are in the world. The intuitive interface provides access to accurate and up-to-date time and date information, ensuring that you stay on schedule and never miss an important event.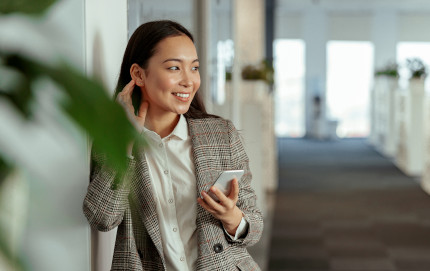 Unlimited languages
Experience the convenience of unlimited language support with Fleex. Whether you prefer to browse in your native language or need to access content in multiple languages, Fleex's unlimited language support ensures that you can enjoy your viewing experience in your preferred language. With a vast selection of languages to choose from, Fleex makes it easy to access content in multiple languages, providing a seamless and personalized viewing experience for all users. Enjoy easy navigation through channels and programs, with the option to access content in the language of your choice.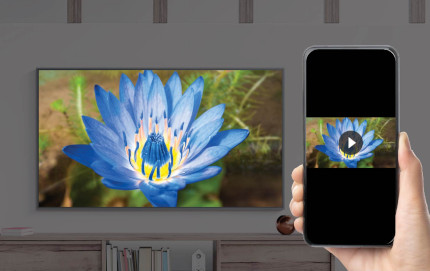 Cast
Experience endless entertainment possibilities with Fleex's advanced cast feature. Connect all your mobile devices, including Android smartphones and tablets, iPhones, iPads, and laptops, using wireless technology to share your screen on any TV monitor. With Fleex's cast feature, you can easily cast movies, TV shows, photos, entire websites, or tabs from a Chrome browser on various devices, such as laptops, macbooks, Chromebooks, Android devices and more. Enjoy personalized and convenient viewing, with the option to access popular streaming apps such as Netflix, Spotify, Disney+, Amazon Prime, and Apple TV, among others, directly from your TV monitor. With Fleex's advanced cast feature, the entertainment possibilities are endless.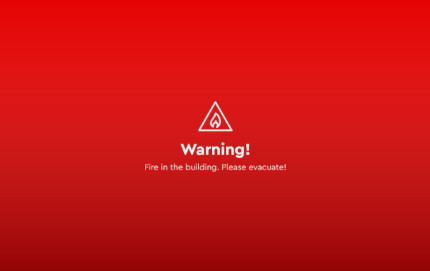 Alarm
Safety always comes first with Fleex's advanced alarm feature. Keep your guests informed of any emergency situations, such as fire, earthquake, typhoon, flood, and more, by utilizing Fleex's 'Alarm' functionality. With clear instructions and guidelines provided through optical and audio signals, Fleex's alarm feature ensures that all guests are informed and prepared for any emergency situation. Fleex's alarm feature is an optimal solution for any kind of emergency, supporting people with disabilities by providing clear and accessible instructions. With Fleex, you can enjoy peace of mind, knowing that you are providing a safe and secure environment for your guests.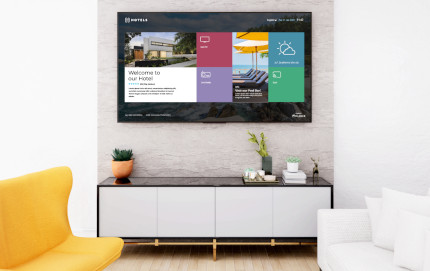 No need of external server
Enjoy the convenience of Fleex Embedded's all-in-one solution, eliminating the need for any external server. Fleex Embedded operates from inside the Lemco Compact and Pro Line headend series, providing a simple and cost-effective solution. In this case, the headends act as a Fleex server, while distributing all your favorite TV and radio channels to your installation. Enjoy seamless integration with your existing hardware, with Fleex Embedded's advanced technology enhancing the capabilities of your headend series. With Fleex Embedded, you can enjoy a high-end viewing experience without the added expense of external servers.
Be the first to
learn our news
By submitting your email, you agree to receive periodic emails from Fleex on exclusive discounts, new product announcements, our latest technology insights, special events and more. Please consult our Privacy Policy to understand how we protect your privacy.